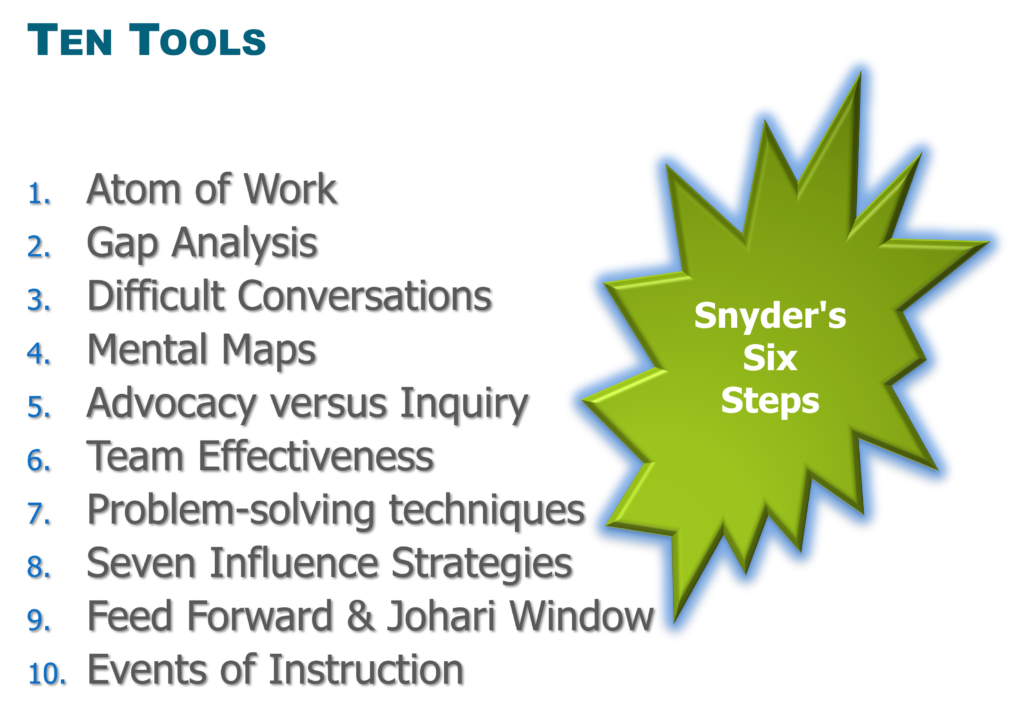 Consider these questions:
How do I know that I am doing the right task? Adding value?
How will I know when I'm successful at work?
How do I deal with breakdowns and battles that occur in my activities and interactions?
How can I make others and especially my group members more effective?
How do I learn as I go along and help others to learn?
If you have ever posed them to yourself then you are part of a very large community of those of us who do work in organizations. And you are one of the reasons why this set of webpages exists for everyone for free.
Welcome to the front page of Ten Tools! These models and techniques can aid interested individuals as they face many of the most frequent but paradoxically difficult demands people face in contemporary organizations:
Over three decades, we explored a variety of tools to identify a set of proven 'devices' to aid a variety of individuals seeking to be effective at work

and

successful in attaining their personal goals. We call them The Ten Tools.
What are some uses of these tools?
---
---
The links below direct you to videos of lectures that explain each one of the Ten Tools As Well as PowerPoint presentations and links to the original resources of those individuals and teams that developed these concepts:
Perhaps you desire further clarification or consultation. If that's the case, then reach out via the form below. Questions? Ideas? Feedback of ANY sort? Fill out the form below. We hope these 10 tools proved to be helpful.